Pompey Favors

abt 1847  Alabama - abt 1888 Ivanhoe (Bethlehem), Fannin, Texas

Texas Marriages, 1837-1973

(familysearch.org)

Groom's Name: Pompey Faver

Bride's Name: Ellen Nelson

Marriage Date: 27 Sep 1869

Marriage Place: , Fannin, Texas

Indexing Project (Batch) Number: M59175-2

System Origin: Texas-VR

Source Film Number: 1293828

Reference Number: 2:1DSHG3F

JUMPING THE BROOM

The "Jumping the Broom" is a ceremony in which the bride and groom, either at the ceremony or at the reception, signify their entrance into a new life and their creation of a new family by symbolically "sweeping away" their former single lives, former problems and concerns, and jumping over the broom to enter upon a new adventure as wife and husband.

Jumping the broom or in some cases jumping over an imaginary line is an African ritual, or tradition still being practiced in some parts of West Africa. Jumping the broom is not associated with slavery. Enslaved Africans, as an affirmation of their cultural heritage practiced it during slavery in North America.

This "leap" into a new life (marriage as wife and husband is performed in the presence of families and friends. You can be as creative as you want when planning for this special ceremony.

The broom has both symbolic and spiritual importance in the African culture. The ritual itself was created by our ancestors during slavery. Because slaves could not legally marry, they created their own rituals to honor their unions. Some say broom jumping comes from an African tribal marriage ritual of placing sticks on the ground representing the couple's new home.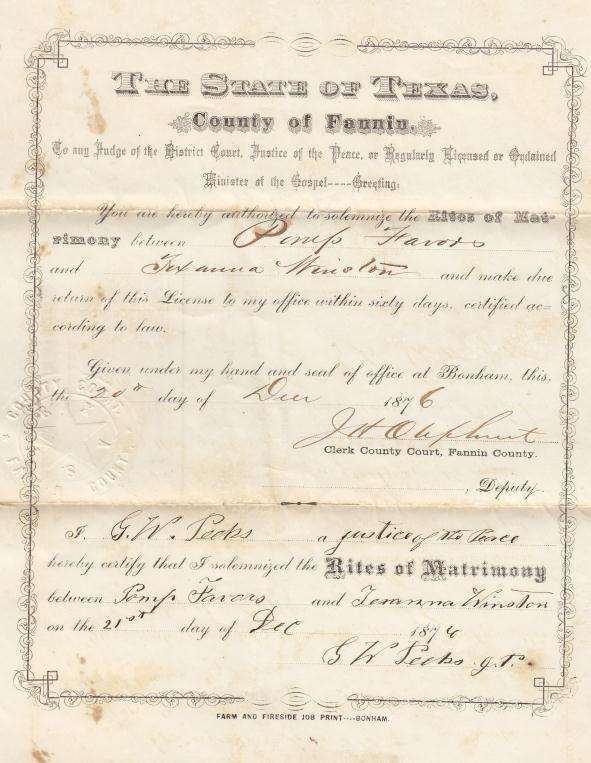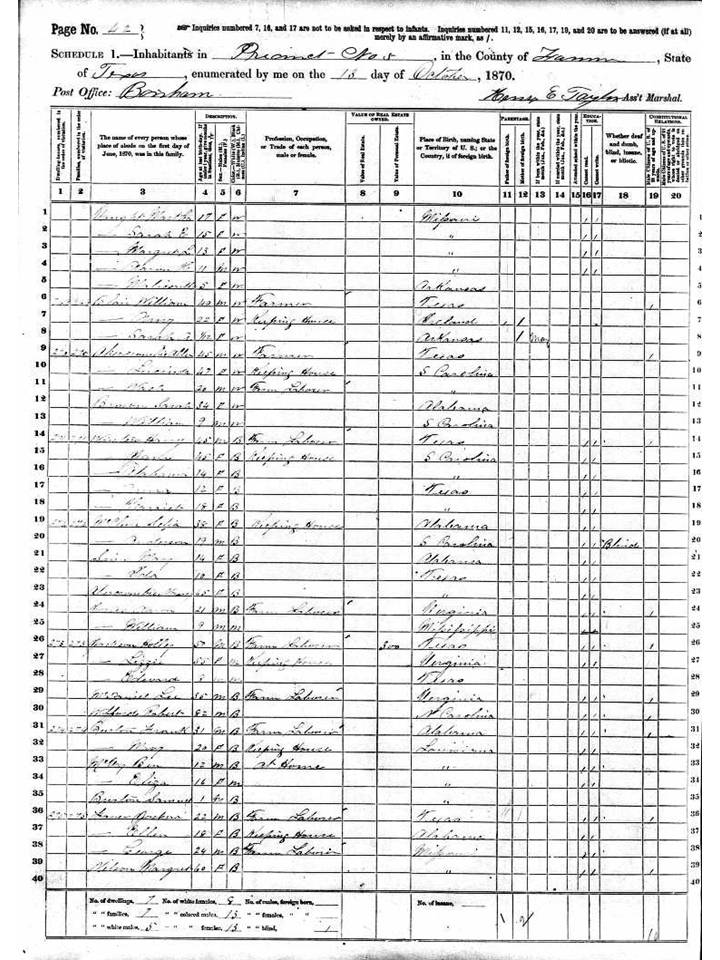 Faver Joshua

  22

M

B

Farm Laborer

  Texas
Faver Ellen


18

  F

B

Keeping House

Alabama
Faver George

   24

M

B

Farm Laborer

  Mississippi
Joshua Faver is Pompey Favors.  Joshua was his slave name, perhaps his original name was Joshua Pompey Faver.  I like  to think that he discarded the name Joshua along with bondage and when he was emanicipated he dropped his slave name of Joshua as a symbolic gesture.  After the 1870 Census, no record ever referred to him as Joshua again.

SLAVERY

In February 23, 1860, LC and MAO Alexander sold Joshua a boy of about 21 and Adam a boy of about 16, to James G. McDade.  The records are filed in the Fannin County Courthouse, in Bonham, Texas.  I have included a copy here.  I will continue to research his records, backwards to try and discover where he was born and perhaps the identity of his parents.

All information on "The Last Slaves" is sourced and verified.

This page was last updated: April 22, 2012
1870 Census; Precinct 5; Fannin Texas

October 13, 1870

Post Office:  Bonham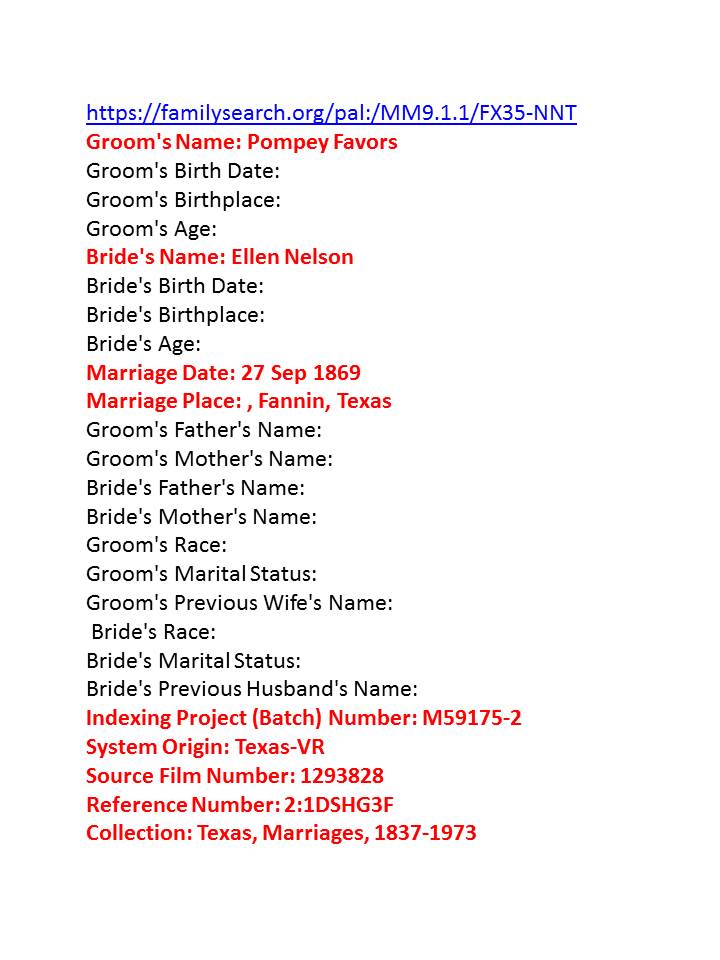 Texas Marriages, 1837-1973

(familysearch.org)

Groom's Name: Pomp Favors

Bride's Name: Texanna Winston

Marriage Date: 21 Dec 1876

Marriage Place: , Fannin, Texas

Indexing Project (Batch) Number: M59176-1

System Origin: Texas-VR

Source Film Number: 1293835

Reference Number: 2:1N80961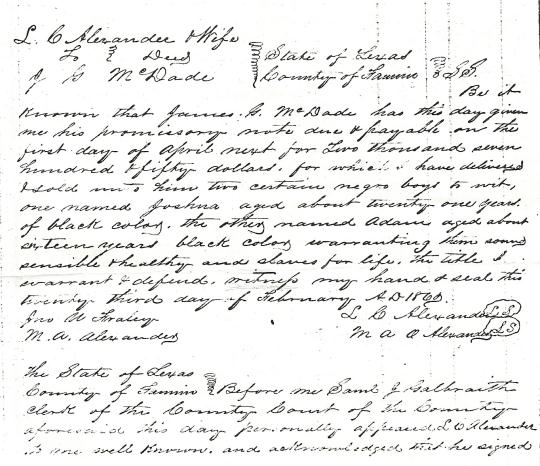 1880 Census Precinct No 7, Fannin, Texas

June 4, 1880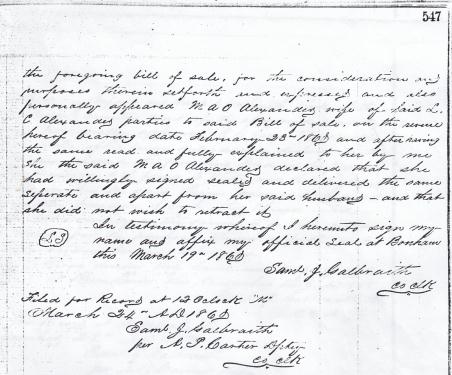 LC Alexander & Wife

)

State of Texas
Deed





)
J G McDade



  )

County of Fannin
Be it known that James G. McDade has this day given me his promissory note due & payable on the first day of April next for Two Thousand Seven Hundred & Fifty dollars for which I have delivered two certain negro boys to wit, one named Joshua about twenty-one years of black color.  The other named Adam aged about sixteen years black color warranting them sound sensible & healthy and slaves for life.  This title I warrant and defend.  Notarized my hand & seal this twenty third day of February A.D.1860

Jno U. Fraley





MA Alexander
LC Alexander





MAO Alexander
The State of Texas   )


                        )
County of Fannin     )

Before me Sam G Galbrait, Clerk of the County Court of this County aforesaid this day personally appeared aforesaid L C Alexander to me well known and acknowledged that he signed the foregoing bill of sale, for the consideration and purpose therein set-forth and ____________________  and also personally appeared MAO Alexander, wife of said LC Alexander parties to said Bill of Sale.  On the review hereof bearing date February 23, 1860 and after having the same read and full explained to her by me, she the said MAO Alexander declared that she had willingly signed sealed and delivered the same separate and apart from her said husband and that she did not wish to retract it.

In testimony whereof herewith sign my name and affix my official seal of Bonham this March 19, 1860








Sam J. Galbraith







Co. Clerk
Filed and Recorded at 12 O'Clock "M"

March 24 AD 1860

Saml J. Galbraith

per AG Carter, Deputy

Co. Clerk

Alexander to McDade Filed in the Fannin County

James G. McDade was named in the probate of Mary S. Burton who was his mother.  He was gifted an interest in the 13 slaves owned by his mother.  These slaves included the Edmond Winston Family. 

BILL OF SALE

Book L, Pg 546 & 547

Bonham, Texas

Filed and Recorded at 12 O'Clock "M" March 24 AD 1860